Send Inquiry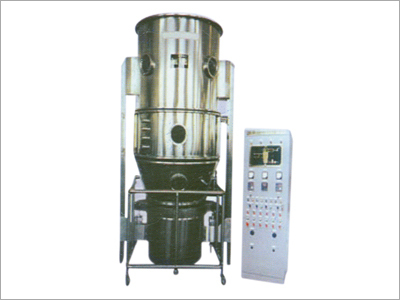 Product Description
Flame Fluid Bed Dryers

100% S.S. Constructions
GMP Standards for latest
Pharmaceuticals Drying
Capacities 10kg/Hr 200 Kgs/HR
Lowest Energy Cost.

SPECIFICATION
Model No: FBD 10/30/60/120/150/200/250/300 Kgs

Detailed Product Description
The Eqipment is used for the efficient drying of pharmaceutical, Chemical, food, 
dye stuff and Polymer Industry Products. 

OPERATION 
The atmospheric Air is drawn in through 5 micron filter with the help of specially designed Heavy duty fan. Foltered Air then heated to the desired 
temperature by electric heaters / steam radiators. The Hot air passes through the product container charged with product gets Airfluidisation. The Filter bag 
prevents fine particles form carrying over top exhaust Air systems.

SALIENT FEATURES

All contact parts will be SS 316.
Product container, Perforated Air distributor plate and retarding chamber are made of SS 316.
Heater are electrically operated with thermostatic control and made in SS 304 tube and fans.
Electrical inter locking system for lifting the bowl.
Pneumatic system for lifting the bowl.
Vision Panel in toughened glass both on the bowl and retarding chamber.

SPECIAL FEATURES

Lasser drying time heance better productivity.
Uniform drying.
Electric or steam operation.
Compact design.

TECHNICAL SPECIFICATIONS
Model: FBD 10 Kgs: 
Capacity of SS container in Litres: 35 
Motor H. P. : 1. 5 
Heating Capacity K. W.: 6 
Heating Capacity Kcal / HR: 3650 
Steam consumption KG / HR. At 3 KG. Cm2 pressure: 14 
Approx. Dimention (Height) mm: 1550 
Approx. Dimention (Width) mm: 750 
Approx. Dimention (Length) mm: 650 

Model: FBD 30 Kgs
Capacity of SS container in Litres: 100 
Motor H. P. : 5 
Heating Capacity K. W.: 18 
Heating Capacity Kcal / HR: 11200 
Steam consumption KG / HR. At 3 KG. Cm2 pressure: 25 
Approx. Dimention (Height) mm: 2200 
Approx. Dimention (Width) mm: 1025 
Approx. Dimention (Length) mm: 1400 

Model: FBD 60 Kgs
Capacity of SS container in Litres: 215 
Motor H. P. : 10 
Heating Capacity K. W.: 36 
Heating Capacity Kcal / HR: 21600 
Steam consumption KG / HR. At 3 KG. Cm2 pressure: 50 
Approx. Dimention (Height) mm: 2650 
Approx. Dimention (Width) mm: 1200 
Approx. Dimention (Length) mm: 1600 

Model: FBD 120 Kgs
Capacity of SS container in Litres: 415 
Motor H. P. : 15 
Heating Capacity K. W.: *54 
Heating Capacity Kcal / HR: 75000 
Steam consumption KG / HR. At 3 KG. Cm2 pressure: 100 
Approx. Dimention (Height) mm: 3000 
Approx. Dimention (Width) mm: 1550 
Approx. Dimention (Length) mm: 1900 

Model: FBD 150 Kgs
Capacity of SS container in Litres: 500 
Motor H. P. : 20 
Heating Capacity K. W.: * 
Heating Capacity Kcal / HR: 52100 
Steam consumption KG / HR. At 3 KG. Cm2 pressure: 150 
Approx. Dimention (Height) mm: 3200 
Approx. Dimention (Width) mm: 1700 
Approx. Dimention (Length) mm: 2000 

Model: FBD 200 Kgs
Capacity of SS container in Litres: 650 
Motor H. P. : 20 
Heating Capacity K. W.: * 
Heating Capacity Kcal / HR: 74000 
Steam consumption KG / HR. At 3 KG. Cm2 pressure: 175 
Approx. Dimention (Height) mm: 3400 
Approx. Dimention (Width) mm: 1850 
Approx. Dimention (Length) mm: 2150 

Model: FBD 250 Kgs
Capacity of SS container in Litres: 780 
Motor H. P. : 25 
Heating Capacity K. W.: * 
Heating Capacity Kcal / HR: 77500 
Steam consumption KG / HR. At 3 KG. Cm2 pressure: 200 
Approx. Dimention (Height) mm: 3500 
Approx. Dimention (Width) mm: 1900 
Approx. Dimention (Length) mm: 2250 

Model: FBD 300 Kgs
Capacity of SS container in Litres: 950 
Motor H. P. : 30 
Heating Capacity K. W.: * 
Heating Capacity Kcal / HR: 91500 
Steam consumption KG / HR. At 3 KG. Cm2 pressure: 250 
Approx. Dimention (Height) mm: 3600 
Approx. Dimention (Width) mm: 1950 
Approx. Dimention (Length) mm: 2350
Enter Buying Requirement Details